Forsbacka Wärdshus
is situated in the landscape of
"Gastrikland", between the cities
of Gavle and Sandviken.
We are located in a very beautiful
mansion park from the 1700 century.
The residence contains hotel,
restaurant, banquetting rooms and conference rooms.
It is perfect for you , who wants to
spend some time in the seating of
a genuine Swedish mansion, with
a very personal charm.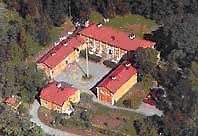 Forsbacka is from the beginning an
old village built around an ironfactory.
The History goes as far away as since
the 1500 century, but the first evidence
of any inn business are dated to 1782.
At that time there was a declaration
that allows the inn to serve aquavit,
but only if they could sell 150 barrels
a year. A few years later they also got
permission to sell beer.
At first only clerks from the ironfactory
had the permission to use the facilities
but in late 1950 it opened for the
public as well.
Today it´s an modern business with
a genuine touch.
All our hotelrooms have there own
charm, all with shower and w.c.
As we are situated in the mansion park
there are no disturbing railway or
motorway that can break your sleep.
The only thing we can´t guarantee
you from is the singing of the birds.
The hotel is opened all year.
For booking and rates, please
call us or send an mail or fax.
We are centrally situated at a
distance of 15 km to Gavle,
200 km to Stockholm,
360 km to Ostersund/Are
and 6 km to the nearest airport.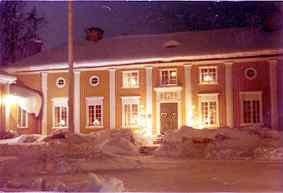 In both wintertime and summertime we
have our charm. In December
our year culminate with the traditional
Christmas "smorgasbord".
Here you will find traditional
Swedish food for the season.
And the whole house is dressed
in a Christmas spirit.

WELCOME TO US IN FORSBACKA